Australia's economy has just posted its equal-best quarter of growth in 46 years, but the rebound from Delta lockdowns has not been smooth sailing for everyone.
The ABS National Accounts show Australia's economy recovered from its 1.9 per cent Delta lockdown slump in the September quarter with a 3.4 per cent jump in the last three months of 2021.
That is the strongest quarterly growth since March 1976, roughly equalling the bounce back from the national COVID-19 lockdown in 2020.
Australia's economy was 4.2 per cent bigger than a year earlier with gross domestic product (GDP) in the December quarter of 2021 now 3.4 per cent above the pre-pandemic levels of December 2019.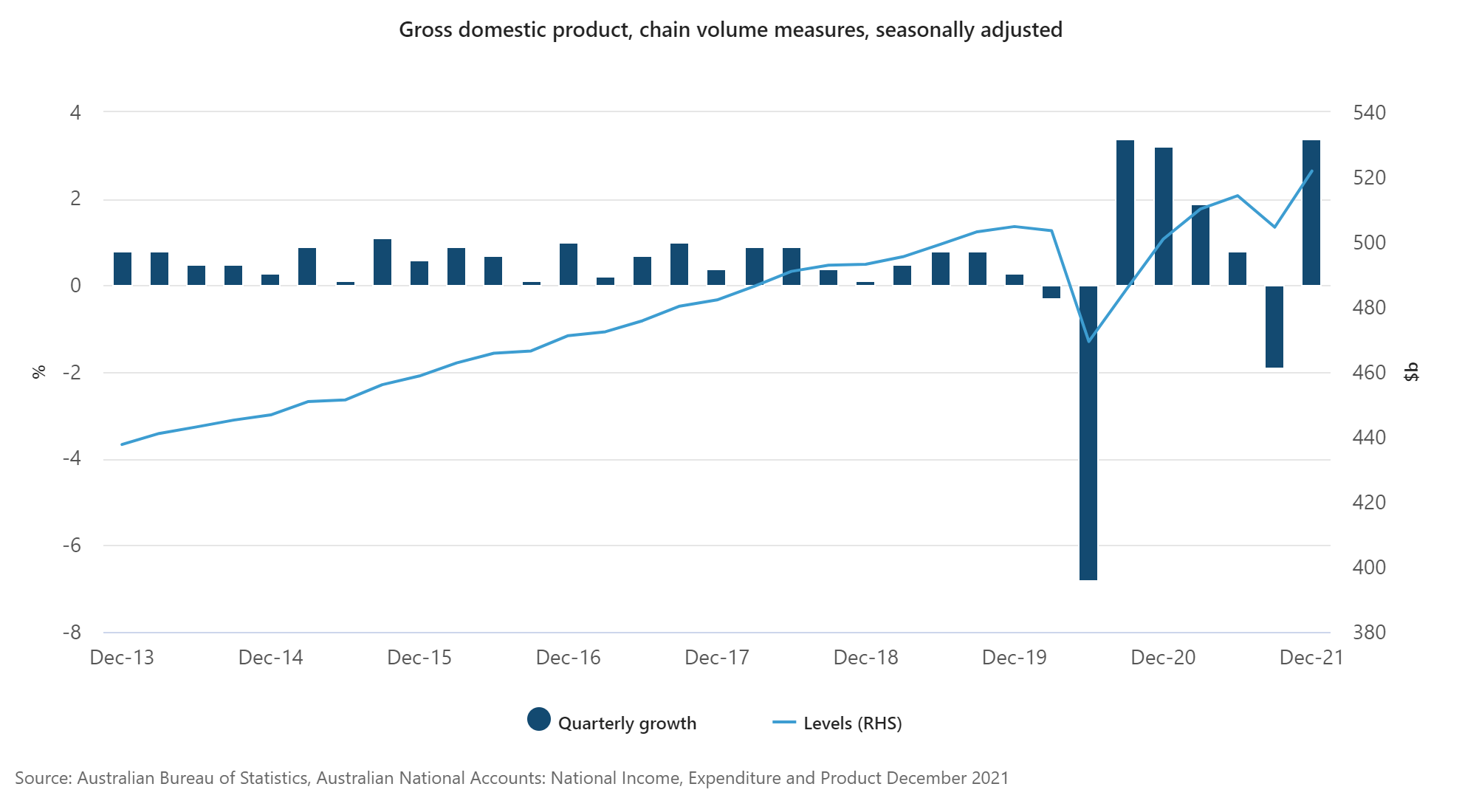 But the recovery has not been universal.
Natalie Beaini is the owner of a small drinks manufacturer based on Sydney's Northern Beaches.
She told The Business that her business had roughly halved during the Delta outbreak and had not yet recovered.
"We do 600,000 cans a year, and [by] the end of last year, we were close to half of that production," she said.
She said on top of reduced demand during the lockdown, she had to deal with supply bottlenecks, transport problems and rising costs.
"We couldn't get just simple things like a CHEP pallet to deliver our stock on," she explained.
"So that's where we lost a lot of business. We lost 42 per cent of stores that we couldn't deliver to because of the pallet issue. And sourcing even boxes, like cartons, were on backorder for 12 weeks.
"Our gross profit margin went down a lot (from 43 per cent to 22) because we had to get a courier service involved. So it was a bit of a loss for us."
Ms Beaini said the lack of JobKeeper payments during the Delta lockdown meant those losses went straight to the bottom line.
"The second lock down, we lost close to $200,000 in that lockdown," she said.
Ms Beaini said her business had become increasingly focused on exports, targeting South Korea, Germany and Japan.
Consumers drive growth
Almost all of the September quarter GDP growth came from households, particularly those in New South Wales, Victoria and the ACT emerging from Delta COVID lockdowns during October.
Household final consumption expenditure contributed 3.2 percentage points out of the 3.4 per cent growth for the quarter, thanks to a 6.3 per cent jump in household spending.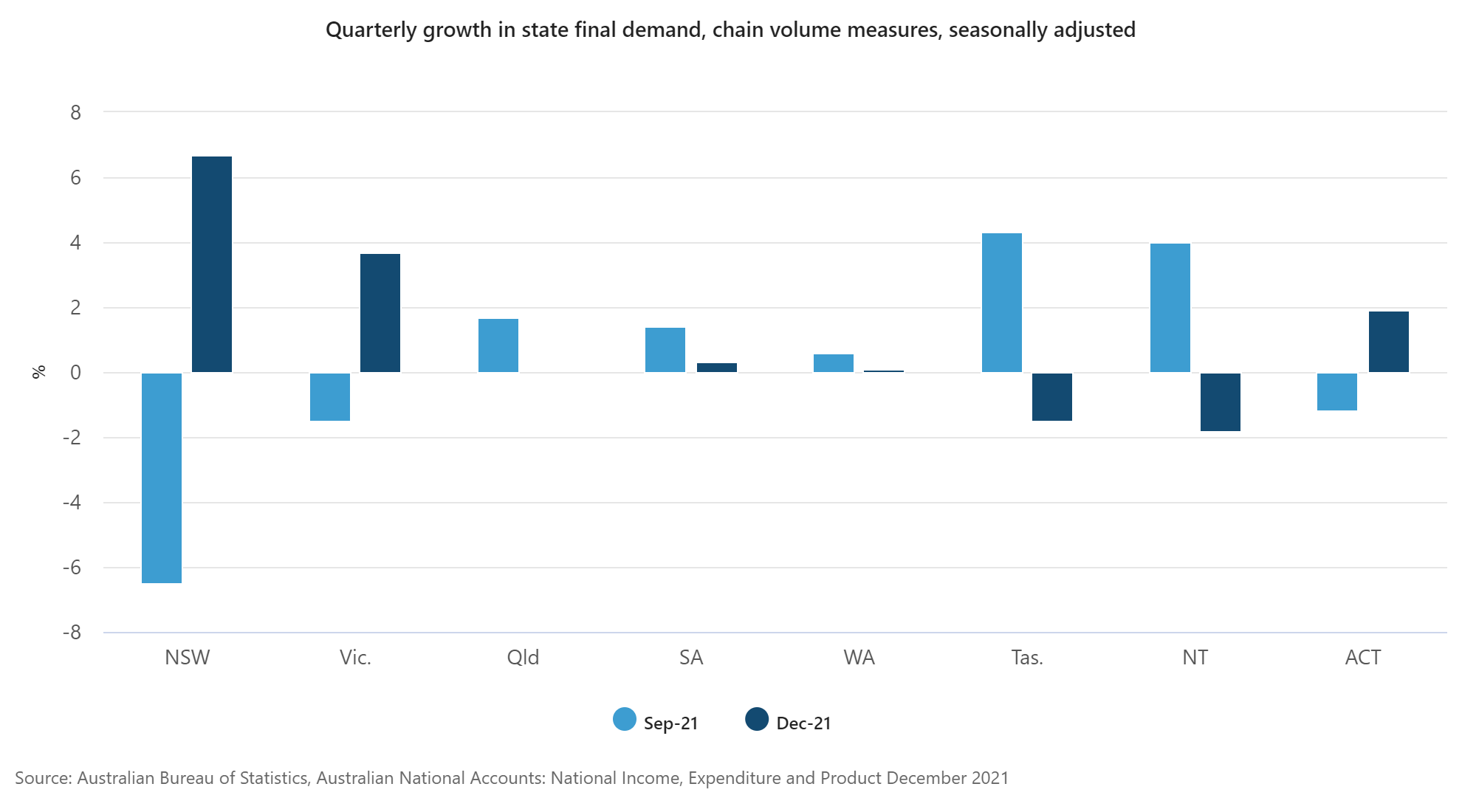 The biggest rises were a 24.3 per cent jump in spending on hotels, cafes and restaurants, a 17.1 per cent rise for recreation and culture and a 7.9 per cent increase in health spending as people in the most populous states were allowed to leave home again.
However, there was also strong demand for goods in the lead-up to Christmas and as those who were locked down increased spending on clothing, footwear and recreational goods.
The ABS said household spending finally exceeded pre-pandemic levels for the first time.
But not all businesses saw the benefit, especially those that had strong growth earlier in the pandemic.
Michelle Lam's outdoor furniture business did not have its usual pre-Christmas rush, even though lockdowns eased during October.
'The wealthy have done very well throughout the pandemic'
Some of the spending was funded by a decrease in household savings, although these remain well above pre-pandemic levels, while employees earned 2 per cent more mainly through an increase in the number of people in jobs as well as hours worked.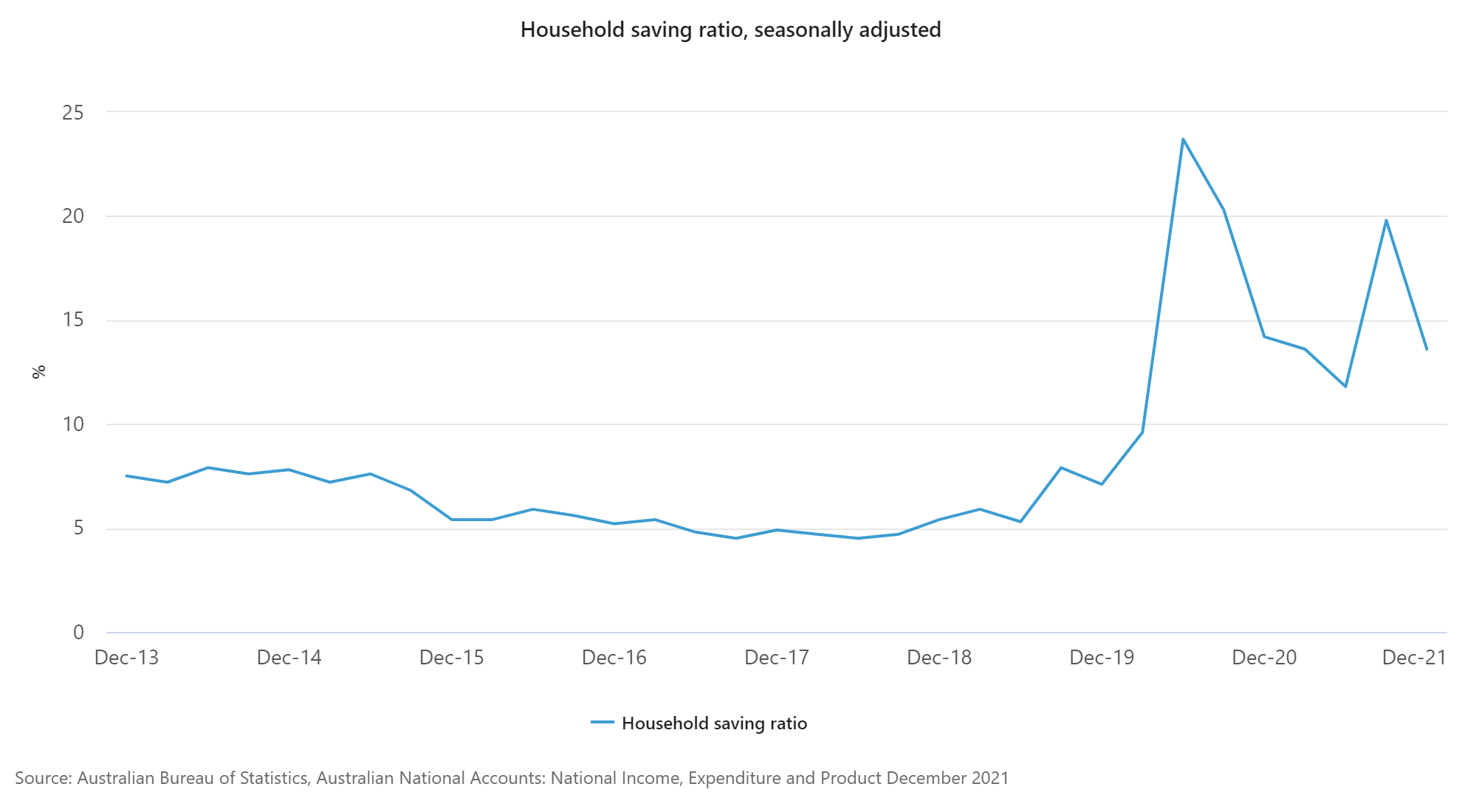 Indeed Asia-Pacific economist Callam Pickering said that will provide a war chest to support consumer spending throughout 2022.
"While household savings are distributed unevenly — the wealthy have done very well throughout the pandemic — the pool of household savings creates tremendous upside risk for the Australian economy going forward," he noted.
"It could certainly help as the nation tries to reduce its reliance on [government] fiscal support."
KPMG senior economist Sarah Hunter agreed growth is likely to remain solid for the first half of 2022.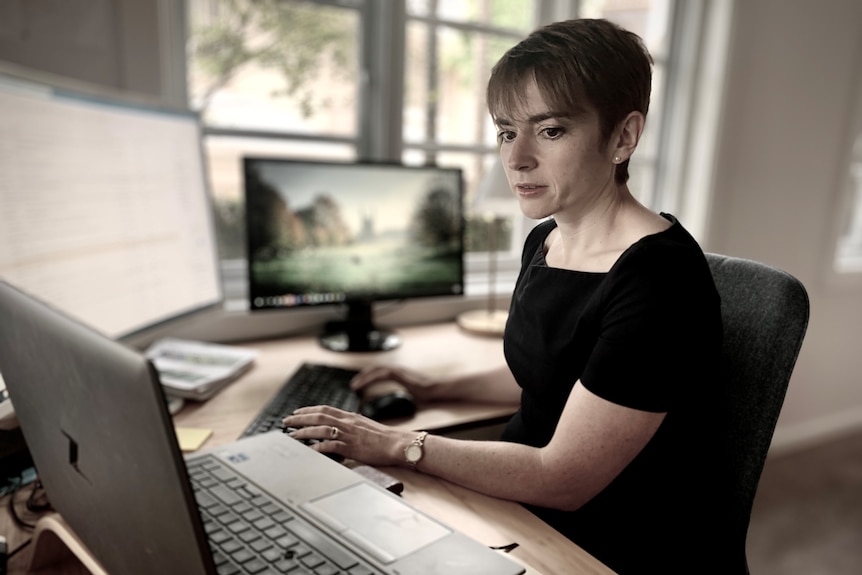 "The near term outlook for the Australian economy is bright, with further easy wins still available following the re-opening after the Omicron wave," she said.
"The household savings rate is still comfortably above pre-pandemic levels (at 13.6 per cent), which will provide further impetus to consumer spending, and public and private sector investment activity should pick up.
"Although the current floods in NSW and Queensland will disrupt activity in the short term."
One dark cloud in the National Accounts was a jump in domestic prices of 1.1 per cent, the fastest since September 2008.
This is another measure of inflation and was driven by a surge in import prices that also saw Australia's terms of trade — the price we get for our exports relative to what we pay for imports — plunge 5.1 per cent, the biggest decline since mid-2009.
It is a phenomenon Ms Lam is witnessing firsthand with any furniture she imports.
"For freight, we used to pay like $2,500 to $3,000 a container. Now the same 40-foot container costs us $10,000," she told The Business.
Retrieved from:https://www.abc.net.au/news/2022-03-02/gdp-australia-december-quarter-2021/100874706 (2, Mar 2022)
The information provided on this website is for reference only. C21 International shall not be liable for any errors, omissions, misstatements, or misrepresentations (express or implied), concerning any Information, and shall not have or accept any liability, obligation, or responsibility whatsoever for any loss, destruction, or damage (including without limitation consequential loss, destruction or damage) howsoever arising from or in respect of using, misusing, inability to use, or relying on the Information.