Price rises have seen the biggest jump since records began in 1997 as the economy continued to reopen.
Official figures show that the increase in the cost of living, as measured by the Consumer Prices Index, hit 3.2% in the year to August.
Higher prices in restaurants and for recreation and food were behind the spike, up from 2% the previous month.
The cost of living rose less rapidly in July because of lower clothing and footwear prices.
However, the Office for National Statistics (ONS) urged caution in reading too much into August's price increases, which it described as "temporary".
Eating and drinking out cost more last month in comparison with August last year, when the Eat Out to Help Out Scheme was running and diners got a state-backed 50% discount on meals up to £10 each on Mondays, Tuesdays, and Wednesdays.
At the same time, business owners in the hospitality and tourism sectors received a VAT discount, designed to help some of the industries worst hit by the pandemic.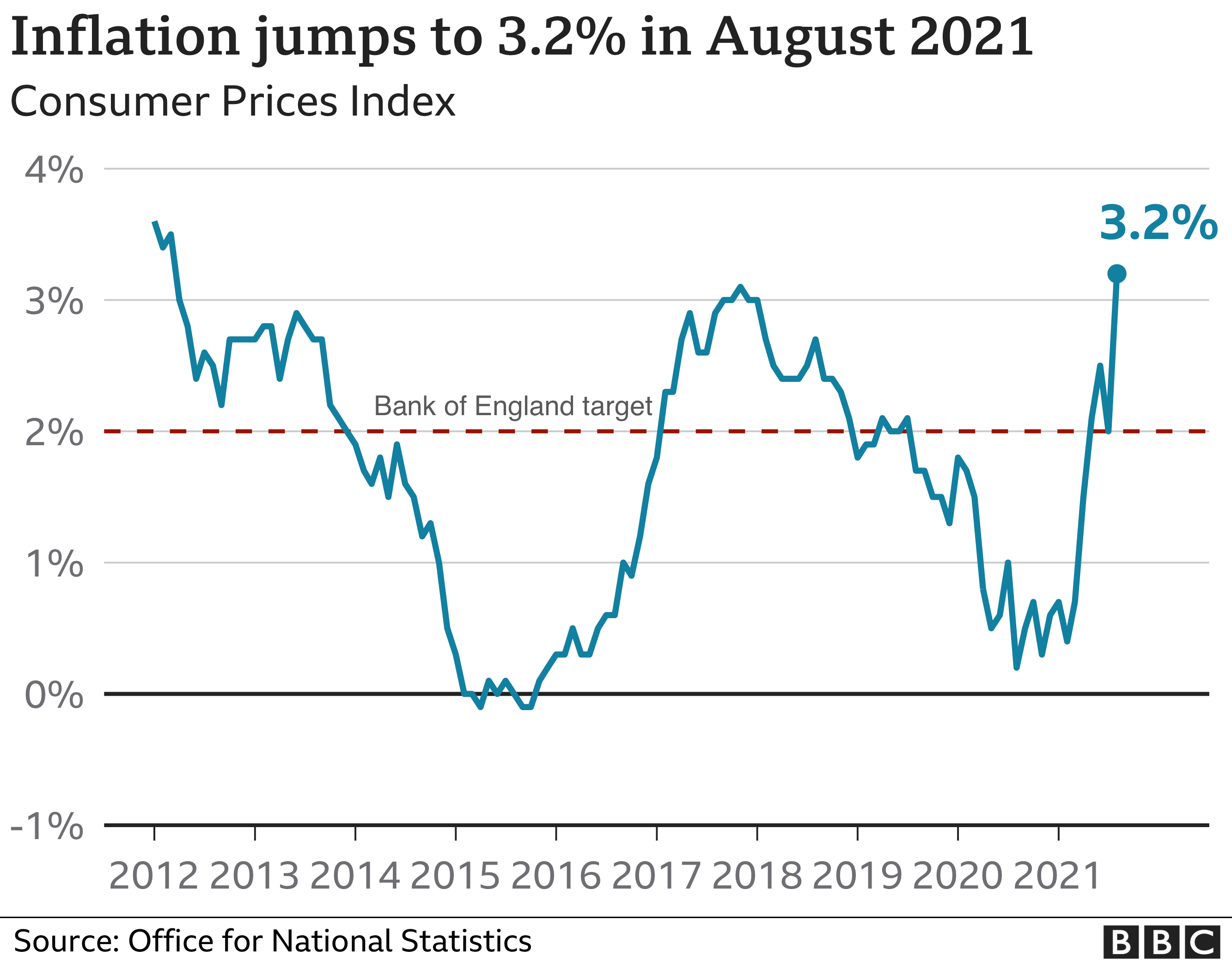 Jonathan Athow, deputy national statistician at the ONS, said: "August saw the largest rise in annual inflation month-on-month since the series was introduced almost a quarter of a century ago.

"However, much of this is likely to be temporary, as last year, restaurant and cafe prices fell substantially due to the Eat Out to Help Out scheme, while this year, prices rose."

In August this year, transport costs also increased.

Average petrol prices stood at 134.6 pence a liter, compared with 113.1 pence a liter a year earlier when travel was reduced under lockdown restrictions.

Used car prices were also partly to blame for price rises - they increased by 4.9% in just one month. Since April, they have gone up by more than 18% amid a shortage of new models.


Ruth Gregory, the senior UK economist at Capital Economics, told BBC Radio 4's Today Programme that price rises seen in August were "almost unavoidable" because of the discounts available in 2020.
"Inflation, which is a year-on-year comparison, was always going to look strong compared to last year," she said.
"Some of that rise reflected genuine factors too. In particular, we are now seeing the effects of higher global shipping costs and shortages of staff driving up food price inflation."
She also expects, however, that the cost of living could continue to increase rapidly, with inflation exceeding 4% by November.

The latest official figures will add to the debate about whether interest rates need to go up to curb consumer spending and moderate prices.

Inflation now exceeds the Bank of England's 2% target, aimed at keeping cost increases steady.

But Capital Economics points out that inflation is likely to fall back almost as sharply next year and that the Bank of England's Monetary Policy Committee is not expected to raise interest rates until 2023.

The central bank's deputy governor, Ben Broadbent, insisted in July that it would not stop its efforts to boost the economy, despite the forecast of higher costs.

"While we know [inflation] is going to go further over the next few months, I'm not convinced that the current inflation in retail goods prices should in and of itself mean higher inflation 18 to 24 months ahead, the horizon more relevant for monetary policy," he said.

Most of the inflation in goods prices was down to oil price rises and supply chain issues, he said, which was likely to "fall away" in the early part of 2022.

But given that Wednesday's latest figures breach the Bank's target, it must now write to Chancellor Rishi Sunak to explain what it will do to ensure that price prices are steady in future.

James Lyon Shaw, who owns the Greene Oak Pub in Windsor, Berkshire, told the BBC the rise in inflation had to be taken in context and that businesses, including his own, needed to "ride the storm".

He is paying his employees 10 to 20% more an hour compared to last year due to the wider workforce shortages.

He said increases in food prices depended on where restaurants and pubs source their food, with rises in haulage and logistics costs hitting profit margins.

"We just have got to get through, you've got to be pragmatic, get on and adapt your business."

He questioned if people had enjoyed access to "cheap food" for too long and whether there needed to be a shift in attitudes to pay for more sustainably produced products.

2px presentational grey line
Yael Selfin, chief economist at KPMG UK, added: "Higher inflation will inevitably raise questions for the Bank of England on the timing of tightening monetary policy and interest rate hikes to contain inflationary risks further down the line."

She added: "However, any tightening now risks scuppering the recovery before it has a chance to take hold, so a delay until the middle of next year is likely."

UK businesses are reporting difficulties in sourcing goods and recruiting staff because of disruption caused by the pandemic and problems such as HGV driver shortages, exacerbated by Brexit.

According to a survey of 2,000 people by Retail Economics, more than half of consumers are concerned about rising costs as a result.

The market research firm said on Wednesday that worries about the cost of living had reached their highest point in more than five years.

資料來源:https://www.bbc.com/news/business-58563417(2021年9月15日)

上述資料僅供參考。世紀21奇豐國際沒有就該等資料的準確性或完整性,或在任何特定情況下使用的合適性作出任何明示或隱含的保證,亦無須對與該等資料或本網站有關的任何原故而引致的任何損失或損害負上責任。如有需要,請向相關部門或機構。